Gilt leather Furniture Jacket Cars Various Designer leather chairs
Leather was widely used as a covering for upholstered furniture. Replacing the leather seldom gives satisfactory results, with the new upholstery looking stark and out of place on the mellow wood of the chair or other item. Instead, it is possible to repair the original giving it a new lease of life whilst retaining the patina of age.
See also: Chair with hide seat.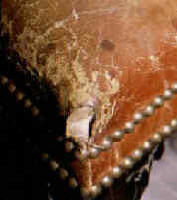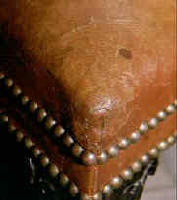 Corner of seat before and after conservation of the upholstery. New leather has been inserted behind the damage, the lost colour has been reinstated, and the surface has been polished. Note how the aged appearance of the leather has been retained.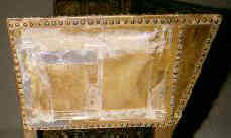 Oak settle by Charles Eamer Kemp. Wightwick Manor, The National Trust.
The end of the settle had been heavily repaired with self adhesive tape.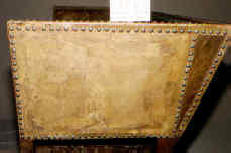 The settle after conservation. The tape has been removed. New leather, matched to the original, has been used to line the damaged original. The work has been carried out without removing the nails. This is desirable as they often break, and exact matches can be difficult to obtain.
gilt leather furniture jacket cars various Designer leather chairs