R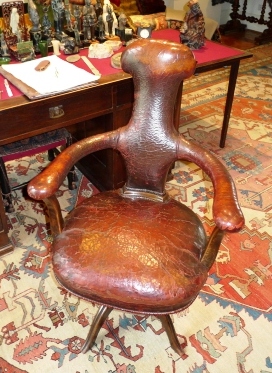 ight. Freud's desk chair after conservation. Seen here in his study at the Freud Museum.
The samples of work below give a broad outline of the type of leather conservation and restoration carried out. However, it is by no means an exhaustive list.
Gilt leather, also sometimes known as Spanish leather, was mainly used for wall hangings and screens. However, it may also be found on chairs and other items.

Upholstery on chairs can be conserved and repaired, and lost colour can be replaced. Items such as desk tops can be cleaned, repaired and polished.

The leather jacket had tears and loss of finish. The conservation work included the repair of splits and reinstatement of finish.

Many cars had their leather replaced in the past. Original covering are becoming relatively rare, particularly on older cars. Conserving the original rather than replacing it is becoming increasingly popular. The result is not as strong as new leather but the seats can usually be used with care.

Incised leather box
Chair with hide seat
State harness

Designer furniture from the 60's and 70's is very collectable and the chairs often have leather components which are failing or losing their colour.

This is my other web site where more examples of leather conservation can be found, including Greta Garbo's make up box.